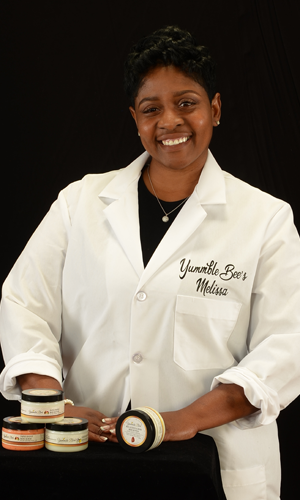 Melissa Dennard, received her BA degree (Psychology) from the College of New Rochelle in New Rochelle, NY. She has worked in the health and human services field for over 20 years dedicating her service to woman, children, and individuals with disabilities. In 1989, Melissa gave birth to a son Elijah and in 1996 to a daughter Asima, who suffered with a severe case of Eczema. Growing up, Melissa's mother and grandmother used natural teas, herbs, extracts,and bee products that was passed down from generation to generation. After countless trips to the Dermatologist and the use of topical medicated creams, nothing provided relief to her daughter's skin. Melissa decided to blend natural products, essential oils, and extracts. Melissa blended oils and butters and passed out samples to friends as a hobby.
Melissa's friends would always have positive feedback and testimonials of how the products would help restore their skin back to health. In 2013 on a family vacation, Melissa's sister convinced her to take an Aromatherapy class with a local Lavender farm in the area. Melissa's love of Bee's, wanting to help people, and generate money to put food on the table is how Yummble Bee's was born!
Melissa is a New York State Licensed Esthetician. She graduated from Atelier Esthetique, NYC's top school for esthetics. She received certifications in Aromatherapy, Microdermabrasion, Chemical Peels, and Eyelash Extensions. Melissa believes that the Honey Bee has got it all figured out. The best things in nature provide nourishment for our skin. She also believes the use of pesticides, insecticides, and Varroa mites are the result of the bee colony loss. Her desire is to bring awareness to the world, not only the awareness of how essential Bee's are to daily life, but the importance of planting flowers and choosing natural products. Treat your body to a spa like experience with our Body Butters, Bath Bombs, Body Scrubs, Specialty Soaps and Spa Candy all handmade with you in mind and most of all, love.
Yummble Bee's ships our all-natural products nationwide from our headquarters in Harlem USA, New Rochelle, NY & Orange, NJ.
We take the time to assure each order is carefully packed and arrives on time, every time.
Our customers know they can rely on the integrity and high quality of our products. Call or email us today to discuss your skincare needs, or to place an order through our secure online platform. We look forward to serving you!
Harlem USA,
New Rochelle, NY & Orange, NJ
Phone: (862) 253-2888
Email: BeeNatural@Yummblebees.com